Pushtimarg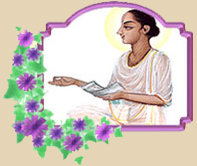 Also known as The Path Of Grace, Pushtimarg is one of the many sects in the Hindu religion. Prevailing through more than 500years, Pushtimarg was founded by Jagadguru Shrimad Vallabhacharya Mahaprabhuji. Shree Mahaprabhuji is one of the five main Acharyas of the Hindu Religion, the other four being Shankaracharya, Shri Ramanujacharya, Shri Madhavacharya and Shri Nimbarkacharya. These acharyas have a very significant contribution towards the revival of the Bhakti movement and upbringing of the Hindu Religion.
During Shree Mahaprabhuji's second pilgrimage, Lord Krishna appeared in the form of Lord Shrinathji in front of him and told him to establish Pushti Marg and propagate the Pushti kind of devotion among the chosen souls and bring them back to their original state in God's own domain. i.e. Golok-dham . But the question in Shri Vallabh's mind was that the divine souls in this world too are highly influenced by the materialistic world and their souls and body have lost the kind of purity that is needed for their reunion with the Supreme entity i.e.. Lord Krishna.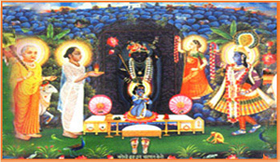 Understing Shree Vallabh's worries, Shree Shreenathji gave the invaluable gift of "Brahamasambandha" Mantra. Lord Shrinathji assured him that with "BRAHAMASAMBANDHA", whichever soul is admitted into the Pushti marg, all its worldly impurities will refrain from obstructing the soul's relation with Himself and will be eligible to pursue His bhakti. That was the night of Prabodhini Ekadashi ( Four days before the new moon day) of the auspicious month of Shravana. Lord Shrinathji taught him the Brahamasambandha mantra and asked him to bring back the seperated divine souls into his seva Shree Mahaprabhuji asked Shree Damodardasji, who was sleeping there, whether he heard Shree Shreenathji's vow or not. He replied that he did hear but didn't understand. Then next day morning Shree Mahaprabhuji gave Brahasambandha to Shree Damodardasji, giving him the honor to be the first vaishnav of Pushtimarg. The three pillars of Pushtimarg are 1) Raag (Traditional Haveli Music),2) Bhog (Pure Vegetarian Food Offerings excluding Onion,Garlic, Cabbage and Root Vegetables), 3) Vastra & Shringar (Dressing up the deity with beautiful clothes, headwear & jewellery adornments).
Features
Pushtimarg is spontaneous, selfless & motiveless love for God. It is based on pure love for God & expressed only through service of God - "Seva". It is love after realising God's true nature. The knowledge gained is not a means of liberation. Liberation, is considered secondary to the enjoyment of God's bliss. Its aim is God's happiness. No caste, creed, color, sex or age becomes the criteria, the only criteria is God's Grace. It does not know any boundaries, be it time, place or anything else. It does not require a devotee to give up a householder's life. In fact, one can serve Him better, by being a householder. All the worldly desires are diverted towards God, they are then not required to be suppressed. World is not looked down upon but is treated as God's creation and thus as real as God himself. Shri Krishna is the supreme God, all the other deities reside in his form. Therefore total faith is placed in Shri Krishna alone. In the state of liberation the entity of the devotee merges into God's blissful form, but in Bhakti (especially Pushti bhakti) the devotee does not seek liberation but enjoys God's bliss by participating in it as a seperate divine entity.